This post may contain affiliate links. This means that if you click on one of these links, visit the retailer and purchase an item, I may receive a small percentage of your purchase. For more information visit disclaimer
When life gets busy, self-care seems to fall at the bottom of our list of priorities but there is nothing quite like a good pamper session to bring you back to feeling your best. Not all of us are lucky enough to have the time or the money to take a trip to the spa so I wanted to show you how you can create the perfect spa day at home.
Set the scene
Creating a relaxing, stress-free environment is the first and most important step. Tidy up, Light some candles, play some music, put on your favourite robe and make yourself a nice cup of refreshing herbal tea.
1.Spa Candle      |     2.Eucalyptus Candle      |     3.Pure Essence Candles
1.Waffle Hotel Robe     |     2.Lace Trim Robe     |    3.Pink Silk Robe
1.Cleanse Tea       |      2.Detox Tea      |      3.Green Tea
1.Floral Slippers     |     2.Pom Pom Slippers     |     3.Waffle Spa Slippers
Now that you are all setup, it's time to get started on the pampering….
Exfoliate & Cleanse
Run yourself a nice warm bath adding two cups of Epsom salts under the running water for a stress relieving, exfoliating and detoxifying soak. If you have particularly dry skin and are looking for a deeper exfoliation, then using either a scrub or a loofah sponge will help.
1.Epsom Salts        |        2.Epsom Muscle Relief          |          3.Essential Oils Epsom Soak
1.Green Tea Body Scrub     |     2.Peppermint Coffee Scrub     |    3.Sea Salt Scrub
1.Beech Wood Body Brush     |     2.Chinese Loofah      |      3.Shower Puff
Facials & Face Masks
If you're looking for the full spa experience then a facial is a must! Start by cleansing, make sure you have removed all makeup and any other products from your skin, and then use a gentle scrub to help clean out blocked pores and remove dead skin.
1. 2in1 Scrub & Cleanser        |        2.Foaming Cleanser       |       3.Cream Exfoliant
If you don't own an at-home face steamer you can fill a bowl with boiling water and cover your head with a towel. This is great for removing bacteria and dirt from your pores before moving onto the next step, which is face masks.
If you prefer to use all-natural ingredients on your skin then take a look at my 5 DIY Face Masks post here, otherwise, start by using a clay mask which again helps cleanse and remove impurities from your skin before moving onto a hydrating and soothing mask…
1.Clay Glow Mask     |     2.Charcoal Pore Cleansing Mask      |      3.Hydrating Mask
Finish your facial with your favourite moisturiser, but take a bit of time to massage it into your skin properly in an upward motion, you want to avoid pulling the skin down.
Mani's & Pedi's
No spa day is complete without a mani-pedi. Before you begin, remove any polish you might already have on your nails so that you have a clean canvas to work with.
First, you want to prepare a foot bath so that whilst you are working on your manicure, your feet can get a good soak. Either fill a foot spa or bowl with warm water and add an oil or product of your choice. Tea tree is a great anti bacterial oil to add, also great for making you feel rejuvenated but if you want something natural, lemon juice is a good antioxidant that also promotes circulation.
1.Concentrated Foot Bath     |       2.Pedicure Soak        |      3.Relief Foot Soak
While your feet are soaking, use a gentle scrub on your hands, apply oil to and push back your cuticles, and file and shape your nails, ready for polish.
1.Exfoliating Hand Scrub    |     2.Cuticle Oil     |     3.Curved File   
Next, though, you'll want to exfoliate and prep your feet so that you can apply polish to both your fingernails and toenails at the same time to prevent smudging.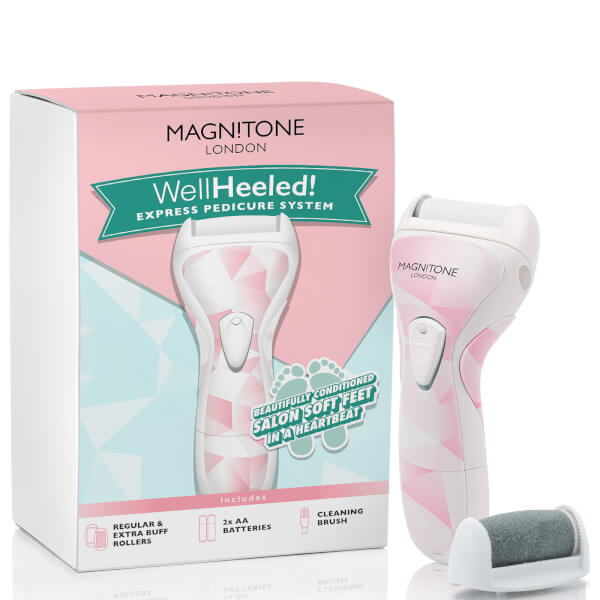 Express Pedicure System Only £22.50!!
1.Foot Mask Socks   |    2.Foot Peel Mask    |      3.Pumice Stone
Once you're ready for polish, prep your nails by cleaning any oil or product from your hands and nails, apply a good base coat and select your nail colour. Keep cotton buds near by in case of any smudging and don't forget to apply a top coat to prevent chipping.
Relax
When you're finished with all your treatments (of course you may want to add more than mentioned above, such as a hair treatment, hair removal, massage, you may even want to incorporate exercise into your day), it's time to relax. Whether you have a nap, read a book or a magazine, have a meditation session, snuggle up to watch a film, whatever it is, just chill! Down time like this is so important in helping you feel refreshed.
There you have it, how to host your very own spa day at home. Enjoy!
L x